Business
EXCLUSIVE: Insiders On Capital Raising And Scaling: '2021 Was A Year Of Champagned Valuations While In 2023 We Are Dealing With The Hangover'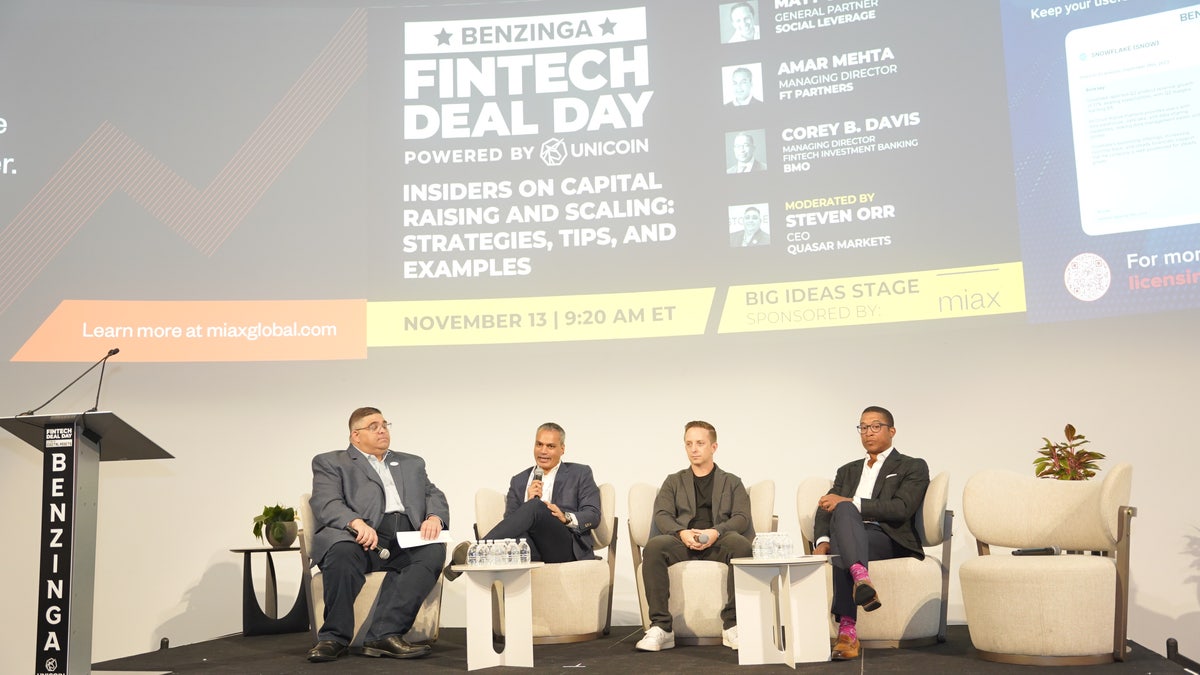 Benzinga Fintech Deal Day & Awards featured the discussion "Insiders on Capital Raising and Scaling: Strategies, Tips, and Examples" with panelists including Social Leverage General Partner Matt Ober, FT Partners Managing Director Amar Mehta and BMO Managing Director Corey B. Davis. Quasar Markets CEO Steven Orr moderated the discussion.
Capital Raising: Inflation and interest rates made current times challenging to raise capital. In knowing what startups should do to raise capital, Ober believed it was important for company founders to realize the 10-year journey of their company and its valuations, and not look at only the current scenario.
It was also crucial to know how the company would acquire users and how to remain cash-positive.
Also Read: Blockchain.Com Raises $110M In Latest Funding Round Amid Crypto Market Revival
Mehta saw the path to profitability, proven economics and how a company could make investors comfortable as important factors for raising capital. Also, if the additional capital raise was reasonable enough for three to five years without needing more capital in the near term.
Davis said, "2021 was a year of champagned valuations while in 2023 we are dealing with the hangover." 
He added that, "If you want to raise capital, let go of 20 times revenue multiple, it is better to look at dilution."
It was important to focus on whether a company had the right product, he said, and if it had the features an investor could be attracted to buy the company. Davis added that 2024 should be a good year for M&A deals.
Leadership Qualities: Highlighting a few qualities for leaders to run an early-stage company were: domain experience, someone who understands technical, the adversity that it had gone through to sustain its future existence and numbers to back what the capital was required for.
With regard to investment in AI-driven companies, it was important to find the right AI company that could develop the right product using the right techniques. Is AI cutting costs, making processes more efficient and what other metrics are some of the important questions for investing in these companies?
Mehta said the financial inclusion sector and emerging markets were the two areas where AI still had significant scope for monetization and development.
For the next round of money to be raised, it was important to look at KPIs and how well they had been achieved. For later-stage companies, it could be noted the company achieved a certain million dollars in revenue or was there a product to merge with a bigger company?
Also, diligence was getting equally stringent with changing times for all-stage companies to raise capital.
Ober said that it wasn't about how money was spent to attract users, it was about attracting users in a unique way which was how you could create content to drive user growth and the best product for an investor to jump in.
Industry Experts' Final Opinion for Capital Raising/Scaling:
Mehta: What next does the investor have in store to offer to you in terms of expertise or product expansion?

Ober: Valuations hold a significantly important place.

Davis: Get things done correctly first and then look at the next step.
Read Next: Will Microsoft's Hire Of Sam Altman Accelerate Generative AI? 3 Analysts On Satya Nadella's Power Move
Photo: Piboon Thongtanyong for Benzinga